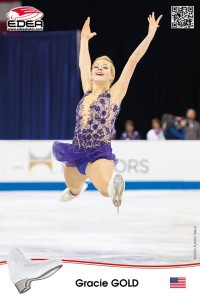 How did you first get started in skating, who was you inspiration?
I started skating when I was 8yo. I went to my friend's birthday party at the local ice rink. We all laced up for the public skate session, and hobbled onto the ice. There were freestyle skaters on the ice too, and I was so amazed at their jumps and spins. I had never seen skating in person before and I loved it! I started weekly Learn-to-Skate sessions that fall.
What motivates you to train hard every day?
I always have a goal in mind, something I want to achieve. I am very motivated right now, because every time I close my eyes I envision performing at the U.S. Championships again, and skating an amazing program! That idea motivates me to train hard every day.
What do you think about in the few second before the music starts at a competition?
I try to keep my mind as quiet as possible. I just listen to the silence of the area and pick one spot on the ice to stare at. As soon as the music begins, I will be ready.
What do you remember about your first competition?
I remember the sparkly dresses and the shiny medal I won! I had never felt more proud of myself.
What and when do you eat before a competition?
I try to eat clean, healthy foods at competition. I eat plenty of complex carbohydrates so I have energy through out my day. I usually start my morning with coffee and oatmeal. I have a few snacks before/after my practices. Then for dinner I try to find grilled chicken or beef for protein. I have a side of rice and veggies with a glass of water. It's super important to be well hydrated!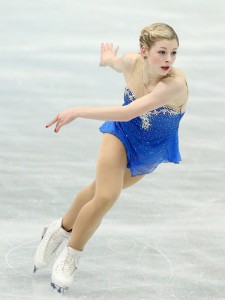 Off rink 
Where's your favourite city or ice rink?  Why?
I have fond memories of skating in Boston, MA, at the TD Garden where I qualified for Sochi Olympics. In Japan, I love skating at the Yoyogi Stadium. It's clean, bright, and really close to downtown Tokyo!
Which is your favorite ice rink ?
In the US, training at Toyota Sports Center is amazing. The facility is clean and well-maintained. There is a gym, warm-up area, healthy snack bar, and three ice surfaces to skate on. The faculty is nice and welcoming  to all skaters and spectators. But, I have so many fond memories from all of the rinks I trained at.
Why did you choose Ice Fly, what makes them such a great skate?
I chose Ice Fly because my old skates were heavy, and my feet hurt all the time. Ice Fly's are light weight and mold to the skater's foot. As soon as I put them on my feet, I knew they were the boot for me!