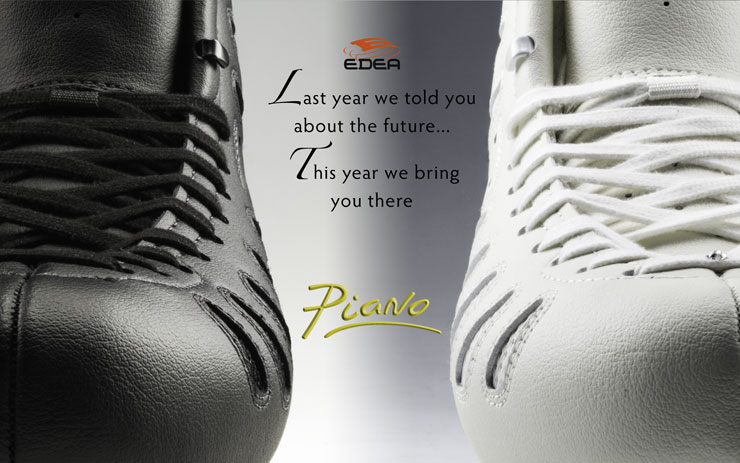 On 30.03.2016 we officially launch our new boot, the Piano.
Piano is a revolution in boot design combining a new anti-shock system with increased support and an ergonomic heel lock to give the skaters the performance they've dreamed of.
NEW ANTI-SHOCK SYSTEM:
• Minimizes impact shocks
• Absorbs ice chatter
• Improves ice speed and stability.
MORE SUPPORT:
The new design combines modern materials and expert craftsmanship allowing a greater transfer of power which gives improved thrust and control.
ERGONOMIC HEEL LOCK:
The Piano's ergonomic design is fitted to the curve of the foot giving the skater more feel and better control.
Piano has been designed for top level skaters that are looking to increase their skating stability, power and movement and looking to minimize overuse injuries. Piano is a different shoe and will feel different to the skaters. The skaters need to complete the sizing process to fully understand the benefits.
To distinguish the Piano, we have designed premium packaging including a gold box and white satin shoe bags.
This premium package will also include a lace puller, laces with Crystals, lace straps and special impact innersoles to add value for the skater.
Check out all the characteristics of the new boot here: http://ice.edeaskates.com/en/ice-skates/piano/
Visit your nearest Edea official dealer to try on Piano boot.
Official dealers: http://edeaskates.com/en/dealers/