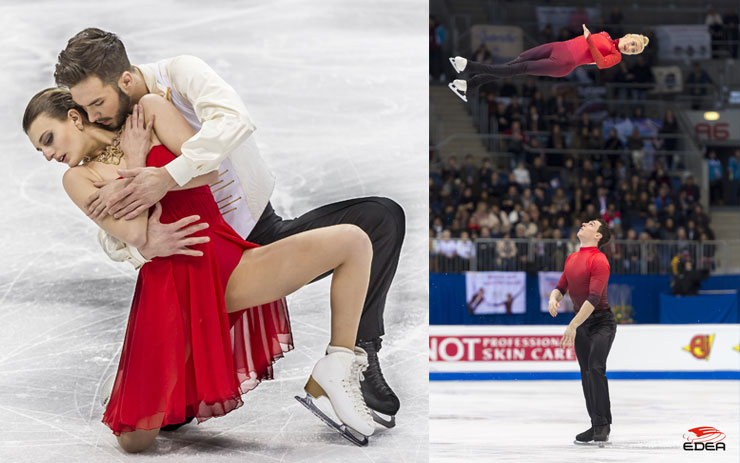 From 25th to 31st of January in Bratislava took place the European Championships. Despite the absence during the first part of the season due to an injury, Gabriella Papadakis with her partner Guillaume Cizeron became for the second time in a row the European Champions. Great start also for Aljona Savchenko and Bruno Massot who won the Silver Medal in pair skating.
Remarkable performances for many others Edea skaters, such as Angelina Kuchvalska (LAT) 4th, Roberta Rodeghiero (ITA) 5th and Maé-Bérénice Méité (FRA) 6th in Ladies competiton; Mikhail Kolyada (RUS) 5th and Deniss Vasiljevs (LAT) 7th in Men competition; Vanessa James with her partner Morgan Cipres (FRA) 5th and Valentina Marchei/Ondrej Hotarek 6th in Pairs competition.
Watch the full gallery here.
From 16th to 21st of February in Taipei City there were the Four Continents Championships. Patrick Chan (CAN), Boyand Jin (CHN) and Han Yan (CHN) placed in the order on the Men podium, performing high technically and artistic programs. In the Ladies competition, Satoko Miyahara (JPN) won the Gold Medal while Rika Hongo (JPN) got the Bronze. The Pairs Silver Medal went to Chris Knierim (USA) and his partner Alexa Scimeca.
From 13th to 20th of Febrary took place the second edition of Youth Olympic Games in Lillehammer, Norway. The Latvian Deniss Vasiljevs got the Junior Men Silver Medal. The Junior Lady Olympic Champion is Polina Tsurskaya (RUS) while the Bronze Medalist is Elizabet Tursynbaeva (KAZ).
The vice-champions in Junior Pair are Anna Duskova/Martin Bidar (CZE) that had a great season this year, and the Bronze Medal went to Alina Ustimkina and her partner Nikita Volodin (RUS).