Significant investment and innovation has led to this ground-breaking step forward: the E-GUARDS!
This skateguard have been completely rethought for better drainage and protection, for easier and quicker use!
The CHARACTERISTICS of the E-Guards make it unique:
ONE PIECE
No fiddling, no parts, no assembly required! It stretched to fit most of the sizes (free-style blades from 8 3/4 to 10 1/4, dance blades from 9 1/4 to 11)

E-GUARDS VS TRADITIONAL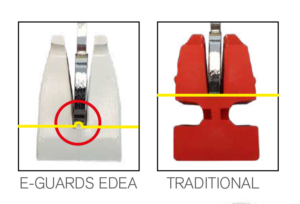 Patent is pending in 152 countries.