ISU Grand Prix Guaranteed Rate Skate America 2021
Some of the best skaters in the world competed in Las Vegas this past weekend, at the first event of the Grand Prix series of the season 2021/2022: Skate America 2021.
Here is a video recap of the official trainings before the competitions started.
PAIRS
The Japanese Ryuichi Kihara with his partner Riku Miura won their first Grand Prix medal, a silver!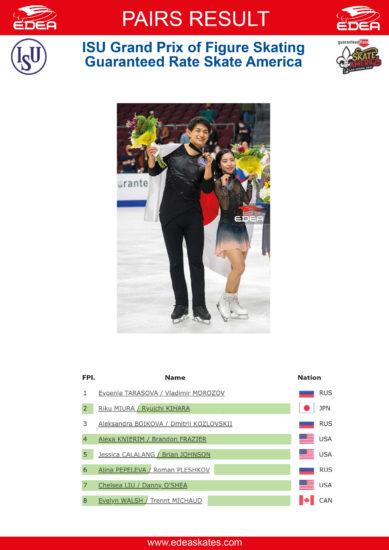 MEN
Kevin Aymoz (FRA) needed to withdraw after a foot injury that didn't allow him to skate the free skating, while Daniel Grassl (ITA) placed 7th overall.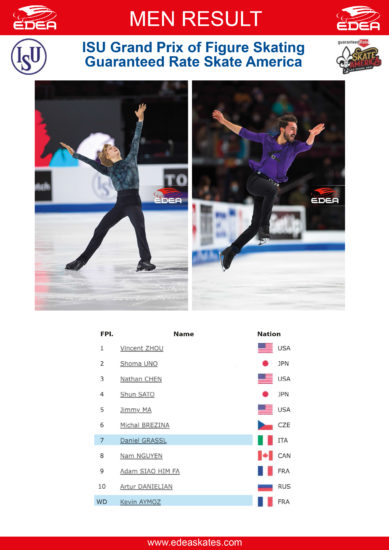 ICE DANCE
US teams Madison Hubbell/Zachary Donohue and Madison Chock/Evan Bates placed 1st and 2nd respectively in ice dance competition, while Oliva Smart/Adrián Diaz placed 4th. Maksym Spodyriev with Natalia Kaliszek (POL) and Molly Cesanek with Yehor Yehorov (USA) placed 8th and 9th.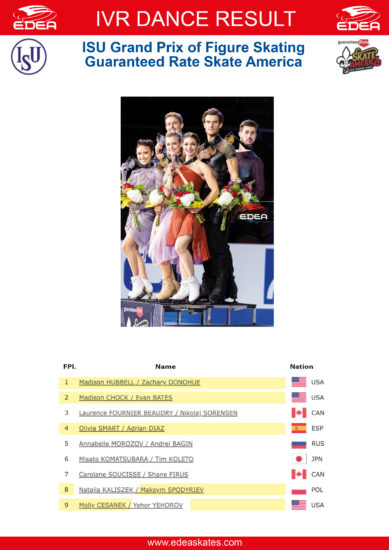 WOMEN
Edea podium sweep in Women event with Aleksandra Trusova (RUS), Daria Usacheva (RUS) and You Young (KOR), followed by Kaori Sakamoto (JPN) in 4th place. Satoko Miyahara (JPN) placed 7th, Yelim Kim (KOR) 8th, Ekaterina Kurakova (POL) 9th, Starr Andrews (USA) 10th, Yuhana Yokoi (JPN) 11th and Audrey shin (USA) 12th.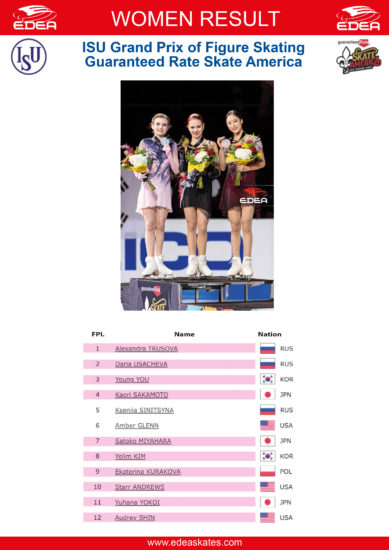 Congratulations #edeafamily !
If you have missed the pictures of the competitions, go check out Edea Skates on Facebook.