ISU Grand Prix Skate Canada 2021
Vancouver hosted the second event of the Grand Prix series of the season 2021/2022.
We congratulate the #edeafamily on their great performances and good results! Let's have a look!
PAIRS
Daria Pavljuchenko with Denis Khodykin from Russia won the silver medal, while Ashley Cain-Gribble with Tim Leduc from USA won the bronze medal!
4th place for the new Canadian pair Vanessa James and Eric Radford, 5th for Minerva Hase and Nolan Seegert, 7th for Lori-Ann Matte and Thierry Ferland and 8th for Zoe Jones and Christopher Boyadji (GBR).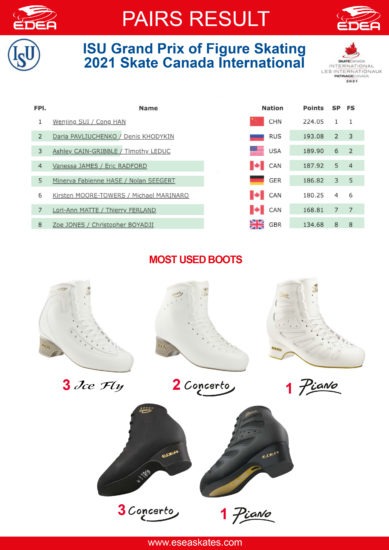 MEN
4th place for Makar Ignatov (RUS), 6th for Moris Kvitelashvili (GEO), 8th for Aleksandr Samarin (RUS), 9th for Conrad Orzel (CAN), 10th for Keiji Tanaka (JPN) and 12th for Roman Sadovsky (CAN).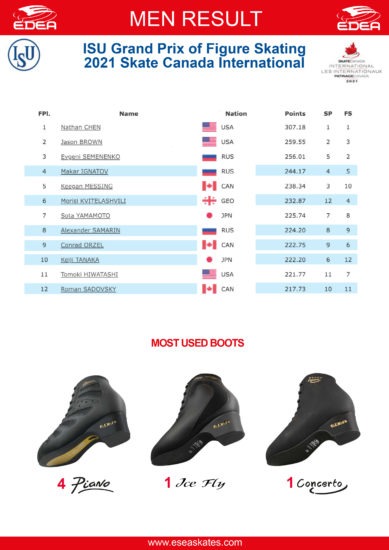 ICE DANCE
First Grand Prix medal for the Spanish team Olivia Smart and Adrián Diaz! It's bronze, congratulations!
Caroline Green with Michael Parsons (USA) placed 4th, Diana Davis with Gleb Smolkin placed 5th and Lilah Fear and Lewis Gibson (GBR) placed 7th.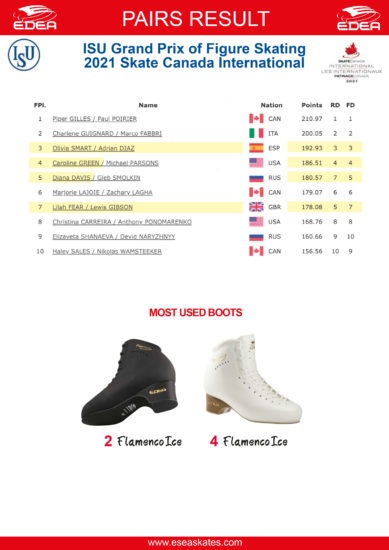 WOMEN
Kamila Valieva (RUS) set 2 new World record in Vancouver, highest score in Free Skating and highest score overall. And this is just the beginning of the season… Will Kamila or any other skaters set a higher record?
Beautiful performances also by Alena Kostornaya (RUS) who won the bronze medal!
4th place for Mai Mihara (JPN), 5th for Alysa Liu (USA), 7th for Haein Lee (KOR), 8th for Madeline Schizas (CAN) and 12th for Alison Schumacher (CAN).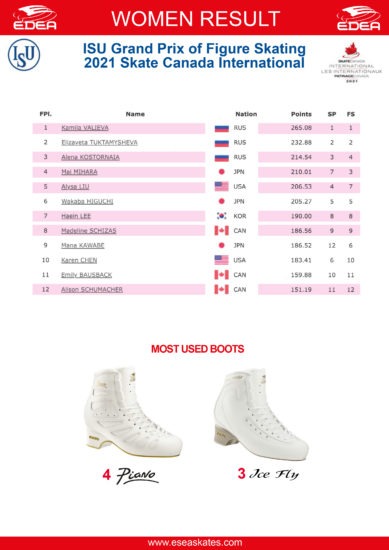 Congratulations #edeafamily !
If you have missed the pictures of the competitions, go check out Edea Skates on Facebook.